It's been four weeks since I went off of dairy, beef and soy and it's made a huge difference in our lives. Mirabella is happy! The rash on her face is gone and she doesn't cry bloody murder while nursing anymore. Also gone are the crazy volcanic noises in her tummy. And because she is doing better, we are all doing better. Nighttime feedings are a breeze. We're so quiet, T barely wakes up. We've also started taking walks around the neighborhood in the afternoon. I was afraid to take her out before for fear we'd get halfway around the block and she'd erupt in a shriekfest.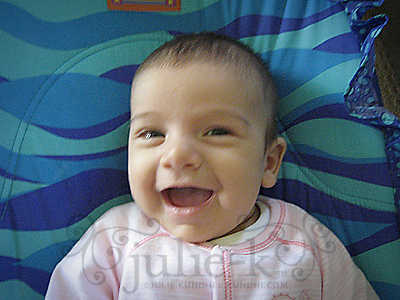 We've also crossed another hurdle: bottlefeeding. We've been trying to do one bottle a day so T can be more involved in the feeding process. The first step was getting her to accept a pacifier. She chose the Nuk, so we got all kinds of Nuk nipples for her bottle. At first, she was all Goldilocks with This Nuk is too big. This Nuk is too slow. We finally came up with a solution: we put an extra hole in the smaller Nuk. Now the Nuk is just right.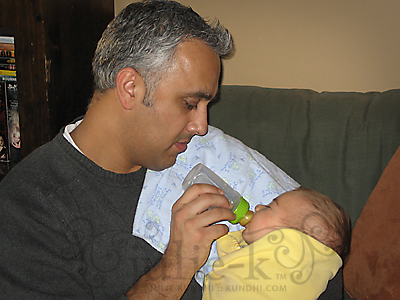 All of these things combined have also helped us get on a schedule. Honestly, if you told me a few weeks ago that we'd be able to go three hours between meals with a little playtime and a nap in between I wouldn't have believed you. We are actually getting in a groove with our routines (and y'all know how much I love my routines!).
I'm also getting into a groove with my new diet. After my initial shock of OMG — I can't eat ANYTHING! I focused on the things I can eat. Before my Nine Months of Nausea (NMoN), I used to cook a lot. I was the master at low fat substitutions. So I pulled out my menu mailers (which I joined right before my NMoN and hadn't used at all) and started getting creative with non-dairy ingredients. I also revamped our pantry, which had grown cobwebs from my NMoN. I threw out anything I couldn't eat and stocked up on lots of non-dairy snacks. Luckily it's getting to be soup weather. I have a gazillion soup recipes that will take me through the spring in fabulous non-dairy fashion. I have to post a picture of the pantry for my parents and in-laws. When they were here, you couldn't even see the floor! Yes, I am a total geek and in love with my pantry.