OK, so it's really not so breaking anymore, but it is news! T and I are expecting! Our due date is August 27th. I'm entering my 17th week, and one would expect that all the first trimester queasies and fatigue should be over by now, but they're not. Honestly, that's the reason the blog has been so quiet. I just haven't felt up to it.
Here's a pic of Baby K (note: the head is on the right):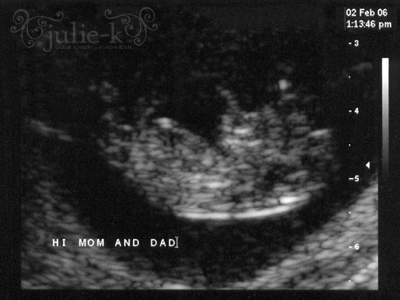 Here's a quick Baby K Q&A:
How are we feeling?
I'm better now, but not out of the woods. No actual morning sickness, just all day nausea and fatigue for the first three months. Some meals are good, and I'm actually eating real food (instead of crackers, bagels, english muffins, toast—you get the idea). Some meals are not so good. All I can do is eat when I can and try not to whine too much. T is feeling fine, by the way.
Are we having a boy or a girl?
We don't know, but plan to find out at our next ultrasound on April 17. I have a feeling that it is a boy, and I can't explain why.
Are we registered anywhere?
Not yet. When I get some of my energy back, we'll start working on things like registering, picking out furniture, planning the nursery, choosing names, etc. Right now, I'm just trying to get through the day.